When it comes to Europe's best city experiences, spending a day or two exploring Paris is usually at the top of the list. With its bustling arrondissements, monument-lined boulevards and world-famous attractions such as the Eiffel Tower and Louvre Museum, it's easy to see why Paris is one of Europe's most popular tourist destinations.
However, it's in the evening when the City of Light really comes to life. If you're looking to do something a little different with your evening, there are plenty of things to do in Paris at night. Forget about an early night and instead pack these activities and attractions into your Parisian adventure.
Watch a traditional Cabaret Show
No trip to Paris would be complete without a trip to one of the city's many cabaret shows. Cabaret and burlesque shows as we know them today have been a part of Parisian life since the 18th century, so head down for an evening of dancing and debauchery at legendary shows such as Crazy Horse, Le Lido and, last but not least, the world-famous Moulin Rouge.
Catch a dazzling light display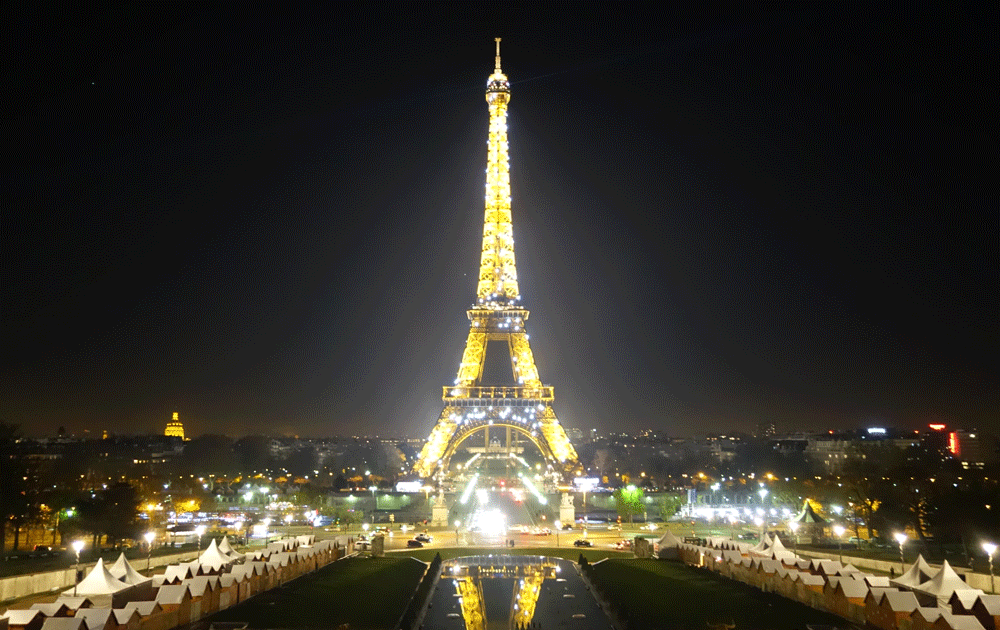 The Eiffel Tower is one of the world's most iconic landmarks. What a lot of people don't know is that every hour, on the hour, the tower puts on an incredible light display for 5 whole minutes. A glittering display of golden lights and beams light up the night sky in a display that you simply have to watch. Pro tip: head to Place du Trocadero for the best seats in the house.
Go swimming
If you still have too much energy to drift off, go for a midnight workout at Piscine Pontoise, a public swimming pool inside a listed Art Deco building. Located in the Latin Quarter, Piscine Pontoise remains open until the early hours of the morning. When the sun goes down, the water is illuminated with mesmerizing blue lights. And the non-stop after-dark playlist will keep your heart pumping.
Hide away in a speakeasy
Fancy spending the night in a candlelit speakeasy? First, head over to the pizzeria in the 11th arrondissement. Then, head towards the former cold store to find the well-hidden Moonshiner bar – the perfect place to enjoy a glass of wine with some peace and quiet.
If you want to try a beverage that packs a punch, order the delicious Vieux Carré, a liquor blend of whiskey, cognac and vermouth. If you need a cigarette break, try picking the lock in the smoking room. Unlock the safe, and the drinks inside are yours for the taking.
Head to a late-night bookstore
There's no need to resign yourself to bed for a spot of late-night reading in Paris. Instead, pay a visit to La Belle Hortense, a quirky café-style bookstore that caters to the capital's nocturns. Here, you can bury your head in a book while sipping a French wine or a fine cru. There are also plenty of nibbles on the menu.
Embrace Your Inner Carnivore
If you need more than just a bite to keep you going until the morning, we recommend dining at the late-night restaurant Chez Denise à La Tour de Montlhéry. This meat-lovers paradise is renowned for its terrines, beef ribs, baked escargots and rum babas. It's been a hit with both locals and visitors for over four decades. In our opinion, there's no better place to go when late-night hunger pangs strike.
Cruise Along The River Seine
Sure, it may be a cliché to suggest river cruises as part of a travel itinerary these days. However, Bateaux Parisiens isn't your typical dinner cruise. Meander along the River Seine aboard one of their comfy, all-glass boats and enjoy some pretty incredible food as you soak in one of Europe's most stunning waterfronts lit up beautifully against the night sky.
Thinking about visiting Paris? To explore the best of Paris during the day, make sure you take a look at our Paris Tours from London.
Visit the city's most historic sights and iconic landmarks in one day with an expert guide, from the Eiffel Tower to Sacré Coeur and the Champs-Élysées, plus so much more. Best of all? You'll be back in time for your dinner reservation in London that same evening.