Everyone knows that us Brits love a good tipple every now and again.
Well, who doesn't, right?
However, there are times when a relaxing drink or two gets a little bit out of hand. That's exactly what happened during the infamous London gin craze of the 18th century. This bizarre series of events in the first half of the 18th century is partially to blame for the success of one of Britain's finest exports – gin.
If you're planning on going on our Borough Market & Gin Distillery tour, or you're generally interested in the history of this unique beverage, then you owe it to yourself to learn all about London's gin craze. Let's hear the story before checking out a few of the capital's best gin bars still in existence today.
---
Saying no to France
In the late 17th century, at a time when Britain and France were (once again!) in a spot of political strife, the crown attempted to curb imports of French Brandy into Britain. In doing so, they created a new market for Britain's homegrown alternative and put in place laws to make it easier to brew and sell gin.
However, in 1690, the London Guild of Distillers was disbanded, allowing independent retailers to enter the market. As the price of food dropped and incomes increased, people looked for new ways to spend their hard-earned gold.
---
Destructive Liquors
Gin quickly flooded the streets. What followed was a public outcry from the upper classes, complaining of strained relationships with the common folk. According to magistrates in Middlesex, gin was "the principal cause of all the vice & debauchery committed among the inferior sort of people" and insisted that the government "observe the strong inclination of the inferior sort of people to these destructive liquors".
"[Gin was] the principal cause of all the vice & debauchery committed among the inferior sort of people"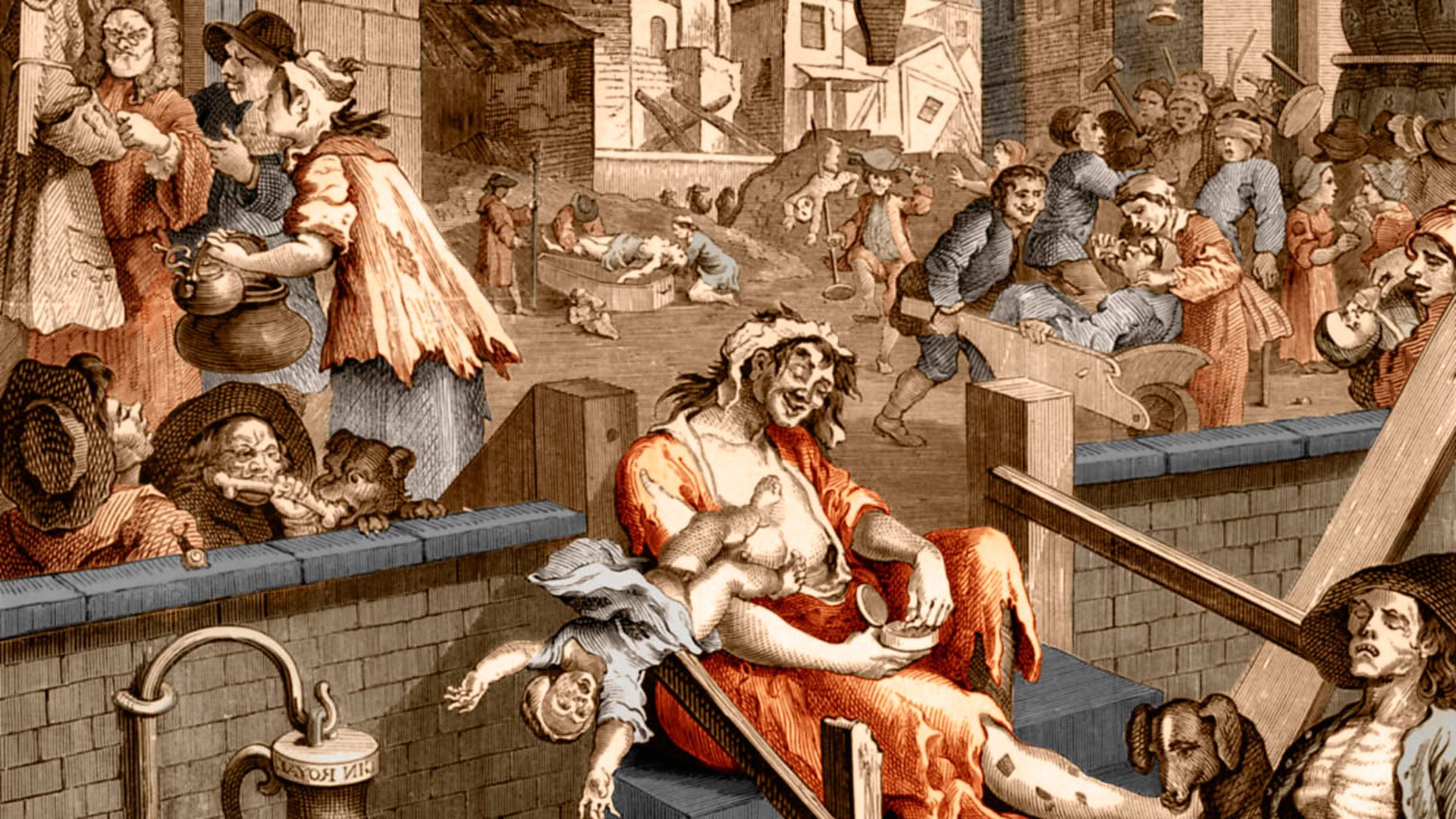 By 1743, England was drinking ten litres of gin per person, per year. The government tried to stem the tidal wave of gin by introducing a tax in 1736, which quickly drove the market underground. They were finally successful in stemming gin consumption in 1751 with a gin licensing act.
---
London's Best Gin Bars
If you, like us, are amongst the 'inferior sort of people' and enjoy a good gin and tonic, there are a few great places in the capital for you to try. Check out:
---
The Gin Bar, Holborn
This stylish establishment has over 500 different types of gin. Definitely one for the aficionados amongst you.
---
Mother's Ruin, Walthamstow
Small, rustic and trendy, this hidden gem distils their own gin on site in traditional copper stills.
---
Two One Four, Bermondsey
An intimate cocktail bar specialising in gin, you'll find over 100 varieties to choose from, all of which are prepared with love and attention to detail.
---
Mr Fogg's, Covent Garden
This old-timey-themed bar is totally unique. Stop in for their G&Tea afternoon tea special and have a gin tasting experience you won't find anywhere else.
---
Four Thieves, Battersea
If you're looking for something a little more fun, Four Thieves has what you need – arcade machines, racing games, and even their own escape room. They also have 350 different types of gin for you to sample.
For those looking for a more immersive gin tasting experience, take a look at our Borough Market & Gin Distillery small group tour. It's a fantastic way to learn how the unique flavours of this classic drink are crafted.